Read
the title of the post,you're about going to get
BIEBER FEVER!
I went to
Justin Bieber My World Tour Concert Live in Malaysia 2011
.I'm not a big fans of him but i love his songs ;P Actually i had watched his
Never Say Never
movie at
Cathay Cineplex
last week with
baby,Carmen and Shaun
.It was awesome for me and
Carmen
,just that the guys were no interested at all but got tagged along :D
This would be a long post fill with
Justin Bieber
,for you guys who dislike him.So sorry,i'll still continue my Bieber's post today tee-hee.Actually,my sisters are going to his concert except for me.So i was bugging peeps around the internet where to get his tickets.I just wanted to go to his concert so much because
IT'S THE JUSTIN BIEBER WHO YOU COULD SEE AND HEAR TO HIM LIVE!
Normally,we would just seeing his pictures in the internet,listening to his songs through the radio station and etc.Guess what? I'm so lucky and i've got to go to the concert and the ticket is RM358 which it's a Blue Zone! (: Am so excited,running around * that time i was in my dance studio * plus it's already 2.00pm , so i rushed home and get ready ;D A BIG Thank you to
Jason Ong
, read his post about the concert here,
http://mynjayz.com/
who tagged me along with the tickets from
Advertlets
and
Tune Talk
! :)
and i will post about from the before,during and after the concert ..heehess....
My neighbour and my sister were there,they are wearing the authentic bieber's shirt bought from
US
They are a huge and true fan of
BELIEBER!
yeahh,i know (: hahas..Look at the banner that they did,
JB just love's me!
Awwwwww
♥
unfortunately they are not allowed to bring any umbrellas,banners and etc
and the banners will be scattered all over the floor .....
There you see...* heart pain * all the effort to make a banner
Look at the long queue ,this queue is heading to
green zoneI
am waiting
Jason
actually,so i
walked around the area and lots of stalls selling JB's merchandises :D
sad thing....POURING RAIN....heavily :(
yet everyone is still queuing for YOU BIEBER! !!!
No kidding,look at the rain ....... SOBS!
Most people were given free rain coat by tune talk :) there's a mini leaflet written
Enjoy The Concert ( even it's rain...! )
Bieber,i wanna let you know that there's lots of people,whether it's children,teens or parents and even the whole family members is queuing under the heavy rain just for your biggest day in Malaysia! :D
and i'm under the rain too! lolss.....
Keeping myself shelter in my one and only one raincoat i have HAHA! was texting my boyfiee ;) *sad face* i queue for three hours .
Tv broadcasting records the bieber's fan singing :) Look ! how excited they are .!!!
Outfit of the day with fringe up :P hate messy fringe >.<
ARE YOU READY FOR THE CONCERT ???!!
ARE YOU READY TO PARTY ???!!!
ARE YOU READY TO SEE JUSTIN BIEBERRR ???!!!!
Obviously YEAH*** Bring it ON!
Josh and Elaine :) They're pretty excited and can't wait for the concert....
We're there (:
blue zone
tee-hees but the place kinda sucky...see my feet -.-
Everyone .... is so excited screaming "BIEBER" !!!
and Mr.Jason's peace sign showing the inverted Bieber's sign ;P
Fans screaming and shouting non-stop calling Bieber! ---->> Count me in for that * WINK *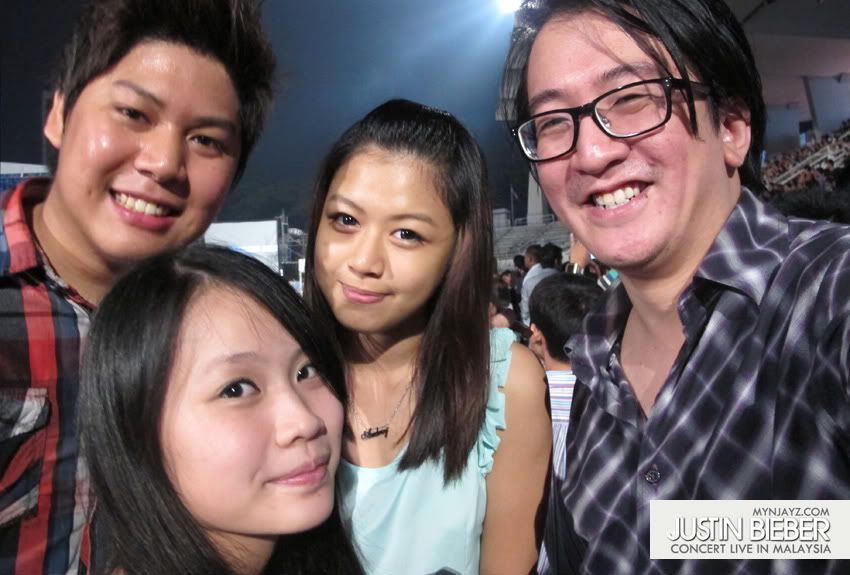 O-M-G
any moment of this!! JUSTIN BIEBER WILL APPEAR!!!!
THERE HE IS!! ARGHHH * screammmmmmmmm *
The one less lonely girl....the chosen one :X
It's BIEBER'S :) Show your LOVE :P
She screams, she dance,she jumped ! :D and she sweats lots...MOST of all is we're all was having fun seeing bieber! ;)
He's so adorable !
♥
♥
♥
♥
♥
♥
♥
♥
AND IT'S HIS TIME TO HIT THE BEAT!
* ALL THE SAD FACES * when saw this....but it's still not the end!
DO YOU WANT MORE?!!
* everyone keep screaming YEAH * louderr,...and LOUDERRR!!
JOEL MADDEN from Good Charlotte !
lagi mad scream the whole stadium! HAHAS..He is the guest appearance and he's sang
Dance Floor Anthem
:) we thought we would see Usher,Sean Kingston or Selena Gomez singing Overboard with him
but nope :(
The concert last for 1 hour 30 mins appr. only :( Light on in the stadium and everyone is going home.
Someone left this on the muddy floor :(
RUSH ..RUSH ..RUSHH!! lol chillex.....tomorrow can absent school mommy and daddy because kids will getting Bieber Fever :P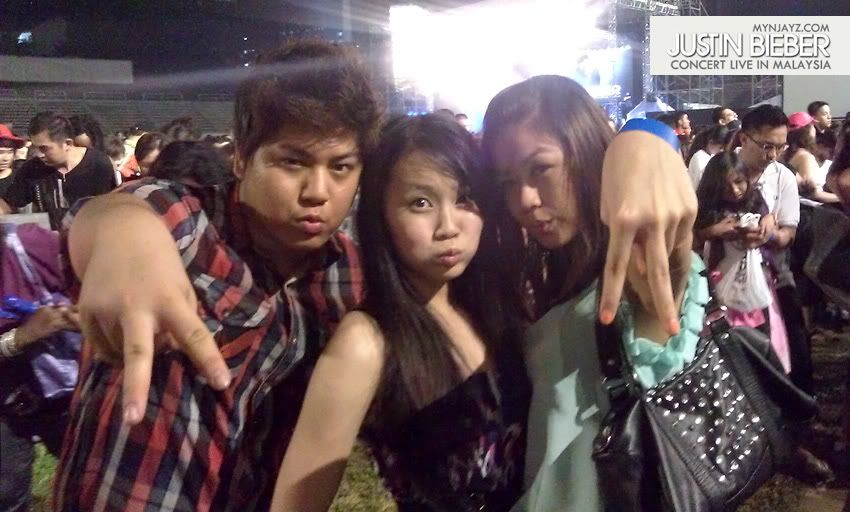 packed like a Sardine....ohh well...
You're ABOUT GOING TO SEE A PICTURE YOU'LL DISLIKE!! hahasss
The end of the long post but the bieber fever will never heal :) hahas!
Videos will be upload when everything is done in Youtube aites... Don't hate me because i know you love me for posting about bieber :P